Valentine's Day is approaching and love is in the air! Today we're going to discuss a topic that is near and dear to many couples' hearts: buying your first home together. Whether you're just starting your search or looking to upgrade, purchasing a home is a massive step in any relationship. It can be a huge financial and emotional investment for couples, so it's important to be prepared. Here are a few things we suggest you consider when buying your first home as a couple:
Be transparent about your finances and set a budget.
Before you start house hunting, sit down with your significant other and determine how much you can afford to spend on a home and future bills that come with homeownership, like mortgage, utility bills, groceries, and property taxes. You don't want to be 2 months into living together and already be having disagreements about who is paying for what or how your home expenses will be divided. Don't forget to factor in closing costs, property taxes, and ongoing maintenance expenses for your new home purchase. Get pre-approved with your partner: Knowing how much you can borrow will help you focus your search on homes that are within your budget. You'll also have an advantage when making an offer if you're pre-approved for a mortgage.
Discuss your priorities, like wants and needs, in the perfect property.
Are you looking for a large backyard, a convenient location, or a certain school district? Make sure you both understand each other's must-haves and deal-breakers before you start your search. Not only will this put you in a strong position while looking for places with your realtor, but it will also prevent one partner from being disappointed when they buy something that they don't feel 
comfortable with at the expense of the other being happy. Communication is key. Buying a home can be stressful, so make sure you and your significant other are open and honest with each other. If one of you feels overwhelmed, take a step back and talk it through while being mindful of each other.
Think about the future.
Buying a home is a long-term investment, so consider what your needs may be in 5, 10, or 20 years. Do you plan on starting a family or welcoming ageing parents into your home? Make sure the home you choose can accommodate your future plans. Make a cohabitation agreement. When buying a home, a cohabitation agreement can outline the terms of the ownership and the responsibilities of each partner with regard to the property. This agreement can cover various aspects such as property rights, expenses, and inheritance in case of separation or death. Having a cohabitation agreement in place can provide peace of mind and help avoid potential disputes in the future. It is a way for both partners to clearly define their rights and obligations regarding the home, which can be particularly important if one partner contributes more financially or has different expectations for the property.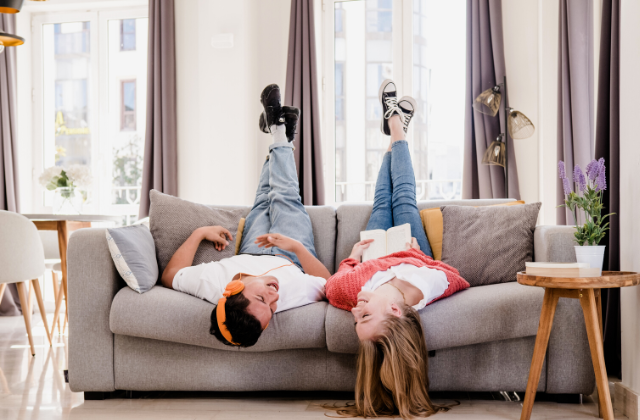 Remember, buying a home is a journey, and it's so important to enjoy the process. Take your time, do your research, and, most importantly, have fun! When starting your search, find a realtor you vibe with and can trust to promote and protect your best interests while making one of the biggest purchases of your life. Moving in with your significant other is supposed to be rainbows and sunshine, use our tips to keep it that way. Happy house hunting and happy Valentine's day.
Newest MLS listings in Quinte and PEC
Browse the most recent MLS houses for sale in the Quinte area and Prince Edward County. Search real estate listings to find exactly what you're looking for and narrow results. Ready to book a showing? Fill out the form on the listing page or email hello@quinteliving.com.